Bob Steel
Thursday 5 August 2021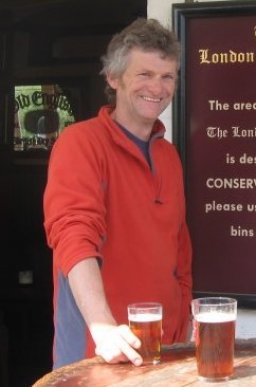 It is with great sadness we note the passing of Bob Steel. Bob was a long-time member of the Croydon & Sutton Branch and lived locally for most of his life. He was a geographer, teacher, author, cyclist, rambler and a great supporter of the preservation and heritage of Public Houses.
Bob put many of these interests together and was the author of six 'CAMRA's Pub Walks' books, starting with London in 2006 continuing through Edinburgh, The Peak District, the Lake District, the Yorkshire Dales and the South East.
In the 2000's Bob was in charge of the beer order at the Wallington Beer Festival for four years.
Bob was also an early and passionate supporter of The Hope, Carshalton and its development from 'a pub with no beer' to CAMRA's Greater London Pub of the Year.
Bob's interests in local and natural history also led to the publication of his definitive River Wandle Companion in 2012.
He will be greatly missed by his wife, Jacqui, and his many friends.
DL