What is CAMRA?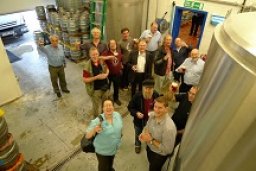 CAMRA is an independent, voluntary, consumer organisation which campaigns for real ale, real pubs and consumer rights. Membership is open to all individuals and currently stands at over 192,000.
CAMRA is governed by a voluntary unpaid national executive, elected by the membership. There are around 200 branches covering the UK and many of the branches run local beer festivals, publish local newsletters and run social events to pubs and breweries.
Although we are a volunteer-led organisation there is also a small professional staff of twenty five responsible for central campaigning, research, membership services, publishing, marketing and administration.
CAMRA is financed through membership subscriptions, sales of books and by the proceeds of beer festivals. We are a not-for-profit company, limited by guarantee and our accounts are lodged annually with Companies House.
To join CAMRA please click this link: https://www.camra.org.uk/join/
On this site you'll find an introduction to CAMRA and its current Campaigns, plus the benefits of CAMRA Membership (for more details follow the link to National CAMRA). Locally we are very keen to guard against pub closures – if you know of any threat to your local, please look at Pub Protection guidance. Look up who's who in the committee - go to Contacts page and check out our Branch Diary for a range of activities including brewery and pub trips.
There are also pages on our branch's breweries and pubs. Please help us to keep this up to date by telling us about changes at your local pub, particularly concerning real ale, using the WhatPub link. Please also help us judge the best pubs in the branch area by submitting a beer score each time you have a pint (Beer Scoring Scheme).
Local news items can be found at News. We welcome contributions to the website or reports such as a write-up of some of the branch activities, or your memories of branch pub, brewing or cider making heritage, or any topic on the subject of real ale. We would also like help in getting London Drinker, the magazine covering London, distributed to your local pubs.
For the latest national news, press releases and member information, visit the National CAMRA link.
CAMRA's mission
CAMRA's mission is to act as champion of the consumer in relation to the UK and European beer and drinks industry. It aims to:
Maintain consumer rights;
Promote quality, choice and value for money;
Support the public house as a focus of community life;
Campaign for greater appreciation of traditional beers, ciders and perries as part of national heritage and culture;
Seek improvements in all licensed premises and throughout the brewing industry.
CAMRA also seeks to promote real cider and perry. Like ale, these are traditional British drinks and like ale, the traditional product is very different from the dead version.