Welcome to the Croydon & Sutton Branch of the Campaign for Real Ale
How good was that beer?
We can all usually tell a good beer from a bad one, but only a few members tell CAMRA what they think. That's a shame, because we need to know, and use the information to help choose which pubs go into the Good Beer Guide each year. It's a lot easier than you think to 'score' a beer and we'd love it if you would help by recording your scores. You don't need any particular expertise, so why not give it a go, next time you have some cask ale? More information is available on this page: Beer Scoring Scheme
Help keep WhatPub? up to date:
When visiting pubs, please continue to let us know any relevant updates, changes and information by using the feedback form on the pub's page on https://whatpub.com/
Click London Drinker August-September 2022 for the August-September 2022 edition of London Drinker.
Click London Drinker outlet list for a list of Croydon & Sutton pubs where you should be able to find London Drinker magazines. Please note the disclaimer at the top of the list. Please note also that as several of us are working at GBBF and other festivals, distribution to pubs may be slightly delayed.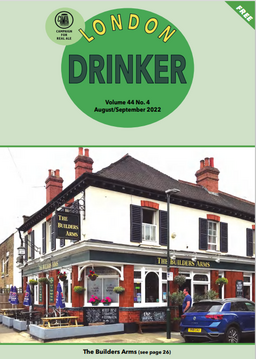 Congratulations to our 2022 Pubs of the Year: Croydon: The Claret & Ale, Addiscombe and Sutton; The Hope, Carshalton. The presentation to the Hope was on 26 May. Our branch Chair presented the certificate to the Hope's representative, Dominic Hemy.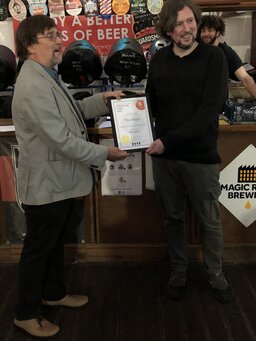 The presentation to the Claret & Ale took place on Thursday 9 June - Dave Lands our branch chair presented the certificate to the Claret's owner, Charlie Read.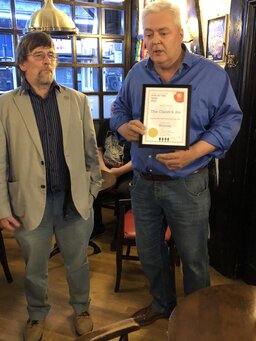 Go to the Members' Area page (CAMRA login required) for a list of pubs which offer a CAMRA discount.
Contributions to the website (articles, photos) always welcome - please send to ku.gro.armac.nodyorc@retsambew
Social media: Twitter: croydonCAMRA ; Facebook C&S Facebook page (Facebook logon required). Instagram: croydoncamra
Twitter / croydonCAMRA
Follow croydonCAMRA on twitter
Twitter / CAMRA_Official
Follow CAMRA_Official on twitter
Webmaster: Steve Thompson ku.gro.armac.nodyorc@retsambew))